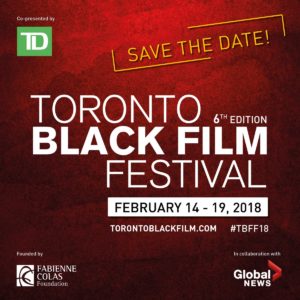 Toronto, ON – The 6th annual Toronto Black Film Festival (TBFF) returns with a bang. The #TBFF18 press conference was held (Jan. 24) at the Calton Cinema in Toronto and presented by TD Bank in collaboration with Global News, the official program and events lineup running February 14 – 19, 2018 were announced.
The 2018 edition of TBFF is back stronger than ever with 5 World Premieres, 2 International Premieres, 2 North-American premieres, 21 Canadian Premieres and various Ontario Premieres. One of Canada's premier festivals for black films showcases over 60 films from 20 countries, including United Arab Emirates, Nigeria, Germany, South Africa, France, Saudi Arabia, Kenya, Denmark, Barbados, Haiti, Brazil, Congo, Canada, U.S.A. and more.
While delivering her speech during the conference, TBFF founder, Fabienne Colas, noted that 2018 has been good year for diversity and women, the year in which Viola Desmond, a black Canadian woman, will appear on a Canadian currency note, she also talked about the impact of the "MeToo" movement across North America and the rest of the world.
According to Fabienne:  "We are back with an even stronger Toronto Black Film  Festival #TBFF18 , which has been providing a platform for hundreds of creators who are willing to take risks by making non-commercial choices which allow them to do stories that convey reality that would otherwise would not have made it to you. We have showcase exceptional work that would not have make it to the screen"
 "By giving a strong voice to the marginalized, our festival aim is to promote professional collaboration that foster the development of independent film while celebrating diversity on the screen. But you know, TBFF would not have been where it is today without the vision of our board of directors, the audacity and perseverance of its team, the quality of the work selected, the creativity of the artiste, the enthusiasm of the press, the conviction of partners, the passion and the loyalty of our audience"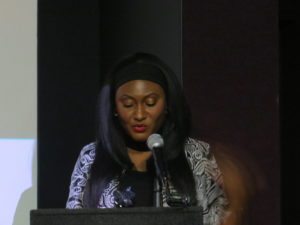 Created by the Fabienne Colas Foundation, the Toronto black Film Festival promotes diversity off and on screen and gives minorities a voice. Part of TD's 2018 Black History Month Series, #TBFF18 will kick off with Nancy Buirski's THE RAPE OF RECY TAYLOR as a Canadian Premiere at Isabel Bader Theatre and will close with South African film and Ontario
Premiere KALUSHI: The Story of Solomon Mahlangu by Mandla Dube. This year's festival also showcases the TBFF Black Market which includes a Panel Discussion with Filmmakers, a Masterclass with film producers, as well as a Tribute and Workshop with Emmy-winning Casting Director Robi Reed (BET). A Movie-Talk with the main cast of the film Service to Man, by Aaron Greer, Seth Panitch – including Greenleaf star Lamman Rucker. #TBFF18 is thrilled to introduce the 1st TBFF Kids Film Festival on Family Day (Feb. 19) which will open with the amazing animated feature film BILAL: A New Breed of Hero by Ayman Jamal, Khurram H. Alavi (United Arab Emirates, Saudi Arabia).
After parties, late night live performances, exotic food, storytelling for kids and much more will also be part of #TBFF18.
The 6th annual Toronto Black Film Festival, created by the Fabienne Colas Foundation, is co-presented by TD Bank in collaboration with Global News – from February 15 to 19, 2017 – At Isabel Bader Theatre, Carlton Cinema, Jackman Hall (AGO) and Kiza Lounge.
For full #TBFF18 programming and events, visit www.TorontoBlackFilm.com
 OPENING NIGHT
Presented by Global News
 THE RAPE OF RECY TAYLOR
Nancy Buirski | U.S.A. | 2017 | 91' | English | Canadian Premiere
Wednesday, February 14, 2018 – 7:30 PM – $25 – Isabel Bader Theatre (93 Charles St. W.)
Recy Taylor, a 24-year-old black mother and sharecropper, was gang raped by six white boys in 1944 Alabama. Common in Jim Crow South, few women spoke up in fear for their lives. Not Recy Taylor, who bravely identifed her rapists. The NAACP sent its chief rape investigator Rosa Parks, who rallied support and triggered an unprecedented outcry for justice. This lm exposes a legacy of physical abuse of black women and reveals Rosa Parks' intimate role in Recy Taylor's story.
"Recy Taylor, a name I know and I think you should know, too" – Oprah Winfrey at the Golden Globes.  The Rape of Recy Taylor had its World Premiere at the Venice Film Festival and was awarded the prestigious Human Rights Nights Special Prize for Human Rights in 2017 at the 74° Venice Biennale.
The selected films also include a short Nigerian documentary based on the Boko Haram saga "Waiting For Hassana" directed by Ifunanya Maduka. In 2014, 276 teenage girls came together for exams in Chibok, Nigeria – by dawn, nearly all had disappeared and their school was burnt. Jessica, an escapee, shares her haunting account of a friendship violently interrupted by Boko Haram. Another Nigerian, Tayo Odesanya, featured a short animated film "Wireless" about electric power in Nigeria.
MOVIE-TALK
Presented by TD Bank
 SERVICE TO MAN
Aaron Greer, Seth Panitch | U.S.A. | 2016 | 92' | English | Canadian Premiere
Saturday, February 17, 2018 – 9PM – $30 – Jackman Hall (AGO) (317 Dundas Street West)
It's 1967 and Eli Rosenberg has a problem; only one medical school in the country will accept him: Meharry Medical College, an all-black medical school in Tennessee, a considerable distance from his life in Brooklyn, New York. Michael Dubois also has a problem; only one medical school in the country will do for him: Meharry Medical College, his successful father's alma mater, and therefore his, whether he likes it or not. Both Eli and Michael have a problem: they are two outsiders from radically different backgrounds forced to work together inside the pressure cooker of medical school in the turbulent 1960s. Together they battle the intricate mysteries of medicine, demanding professors, and each other in their quest to, ultimately, become healers in the Service To Man.
A Q&A discussion with cast members, Lamman Rucker (OWN's Greenleaf), Morgan Auld and Aaron Greer will follow the screening of the film, hosted by TBFF President and Founder, Fabienne Colas.
 TRIBUTE AND WORKSHOP: A TALK WITH ROBI REED & 2018 TBFF CAREER ACHIEVEMENT AWARD
Presented by ACTRA Toronto
Saturday, February 17 – 2PM – $20 – Jackman Hall (AGO) (317 Dundas Street West)
The ACTRA Toronto Diversity Committee partners with the TBFF for a special casting director workshop, geared
toward performers of colour. Join us as we sit with Robi Reed, Vice President of Talent and Casting for Original Programming for Black Entertainment Television and casting director/producer, and delve deep
into the casting process. How can performers set themselves up for success? What are recent trends in casting? Performers, this is for you. Bring your questions and get ready to take notes. Hosted by performer and producer, Diane L. Johnstone
Preceding the talk, TBFF will present Robi Reed with the 2018 TBFF Career Achievement Award.
ROBI REED is the first African-American to be nominated and win an Emmy for casting. Denzel Washington, Halle Berry, Rosie Perez and Queen Latifah all have something in common with Emmy Award-winning Casting Director Robi Reed. Her magic touch landed them major roles in their careers. She is currently the Vice President of Talent and Casting for Original Programming at Black Entertainment Television (BET), where she oversees talent and casting for scripted and non-scripted shows. She has over 70 filmsand television shows to her credit, including The Best Man, Oprah Winfrey's Their Eyes Were Watching God, Soul Food, For Colored Girls, Showtime's series Barbershop, Love Jones, Set It Off, In Living Color and Girlfriends. She also cast Beyoncé Knowles in her first acting role in MTV's CARMEN: A Hip Hopera and later in her first lead with Cuba Gooding Jr. in the feature film, The Fighting Temptations. Reed got her start working with writer-director Spike Lee. His 1988 release School Daze was her very first film as a casting director. She later went on to cast Lee's Malcolm X, Do The Right Thing, Mo' Better Blues, Crooklyn, Clockers and Jungle Fever.
 TBFF BLACK MARKET
TBFF WORKSHOPS AND MASTER CLASSES
February 17 & 18 – 11AM – Carlton Cinema (20 Carlton Street, Toronto)
#TBFF18 brings back the TBFF Black Market, a series where both locally and internationally renowned industry professionals, experts, thought leaders, visionaries and like-minded people, will share an exciting blend of cutting-edge thinking and real- world experience on today's most critical filmmaking issues. We hope to foster future collaborations, maximize cross-border artistic exchanges and promote entrepreneurship in the field of filmmaking.
 PANEL DISCUSSION: MEET THE FILMMAKERS — SAT., FEB. 17 | 11AM | $15
The TBFF's Black Market returns with a Masterclass/Workshop that you won't want to miss if you want to succeed in the film industry. Established filmmakers from Canada and abroad will come talk about their experience with filmmaking from creation, to financing, production, distribution. /festival circuit.
 MASTER CLASS: MEET THE PRODUCERS — SUN., FEB. 18 | 11AM | $15
The TBFF's Black Market introduces a special masterclass with established producers from Canada and abroad that will focus on the art of producing and the funding aspect in filmmaking.
 TBFF KIDS FILM FESTIVAL
Presented by TD Bank
Monday, February 19 – 11AM to 9PM – $6 (12 years & younger) / $12 (12+) – Carlton Cinema (20 Carlton St.)
The Toronto Black Film Festival (TBFF) is thrilled to be introducing the TBFF Kids Film Festival on Ontario's Family Day. TBFF Kids Film Festival wants to inspire and empower children through the discovery of filmmaking, story-telling and more. The Festival wants to offer kids a cool environment where they can learn, be creative and express themselves in a fun way while being exposed to black history and black stories.
BILAL: A New Breed of Hero by Ayman Jamal, Khurram H. Alavi (United Arab Emirates, Saudi Arabia)will open TBFF Kids Film Fest. Canadian Award nominated actresses 
 Allison Austin and Ava Augustin, two sisters that have been attending TBFF since year one, are 2018 TBFF KIDS FILM FEST'S AMBASSADORS.