Actress, director, and producer, Fabienne Colas, is relentless and passionate in her support and promotion of independent black cinema around the world.  A woman of action with a creative spirit, she is the president and founder of her self-titled foundation – Fabienne Colas Foundation, the Montreal International Black Film Festival, the Haiti en Folie Festival in Montreal (Haiti on fire), the Toronto Black film Festival (TBFF), the Festival Fade to Black and of the Quebecois Film Festival in Haiti, and is also very active at the production company, Zaza Productions
TBFF is dedicated to celebrating the very best in cinematic work dealing with the experiences of black people from a diversity of communities. TBFF showcases new voices in cinema and encourages audiences to see the world in new ways.
 African Ripples Magazine's Akin T. George was in touch with Fabienne to discuss about her organization and the relevance of the Toronto Black Film Festival, TBFF, to the black community in Canada and beyond.
 "The Toronto Black Film Festival is dedicated to giving unique voices in cinema the opportunity to present audiences with new ways of looking at the world" Could explain more on the new ways of looking at the world?
Getting to know one another better leads to great understandings. Our creators offers eye-opening films that allow the audience to discover other realities from all parts of the word (we are screening 40 films from 20 countries this year). It's a cool way to keep up with the new trends, being informed about what is really happening in the world and see what you can do to help raise awareness.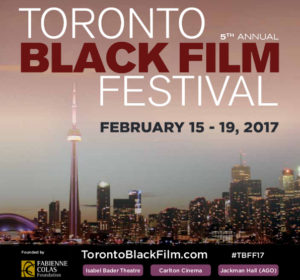 "TBFF is glad to celebrate Diversity within the black communities through films that matter."  What qualities define a "film that matters"?
A film that matters is a film that inspires people to take action for change, resonates and makes us understand one another better, tell us a part of history that was not in our usual history books, raises awareness, empowers, educates, entertains in meaningful ways; a film that transforms you in a way, you don't see the world the same way afterwards. At the Toronto Black Film Festival, we screen from February 15 to 19, 2017 40 films from 20 countries, they are films that matter and that would not been seen in Toronto otherwise. Films that make us cry or make us think; films that shock us; films that make us laugh or smile. At TBFF we bring you films that bring us closer together.

Is there any strategic difference between the Montreal International Black Film Festival and the Toronto Black Film Festival?
Since Montreal and Toronto have different audiences, some films make it to both festivals, but most don't. The MIBFF is more established (13 years) and attracts more celebrities and international coverage. While TBFF is the younger sister festival who has been able to quickly position itself in the Toronto Market, it is still developing and growing. The fact that MIBFF is happening in the fall provides more opportunities for parties, red carpets and outdoor activities too. The good thing is although each festival has its own local team, the Fabienne Colas Foundation's team get to complement their expertise and work on both. This is why TBFF is expanding so quickly.
What are the short and long-term goals of these two festivals?
We just launched the Halifax Black Film Festival this Month! Our common goal at the Fabienne Colas Foundation (creator of all three festivals) is to help spread diversity off and on screen throughout Canada. Give a voice and a platform to filmmakers who otherwise wouldn't have been seen or heard. We hope to be able to keep providing audiences the best films on black realities from around the world and keep inspiring them. We also hope to be able to attract the necessary funding so we can showcase more local artists as well as mentoring them and help them create more films.
Do you believe African stories are well told by mainstream movie industry?
I believe it's a great thing to have African, Caribbean or Black American movies being made by both mainstream and independent movie industries. Each film is different and has its own challenge and reality. But generally speaking, I would rather say, we need more filmmakers, producers, distributors and people in high level of power in studios so we can have films that reflect our true realities. However, let's remember that the mainstream film industry is there to make films that sell. So the film must appeal to a mass westerner's audience, which is why they tend to tell our stories a bit differently so it can be appealing or "sensational". The only way to compensate is to have more people telling their own stories. But it's difficult to want massive mainstream distribution and at the same time want to tell your story your African or Caribbean way…it might not be what the mainstream studios want. We need to sometimes compromise. If you cannot, well, do your thing your way and distribute it yourself.

What's your take on the movie industry in Africa, particularly Nollywood?
Nollywood became the 3rd largest film industry in the world and can self-distribute within the African continent alone (mostly in Nigeria) and still be successful. How cool is that! I wish my home country Haiti could do the same. They self-finance, self-produce, self-distribute! We gotta take action and support our local productions. Although some Nollywood films lack quality sometimes, it's still standing and booming. Awesome.

What advice would you give to aspiring movie producers in Africa?
As a Caribbean-Canadian, I don't know too much about the true reality of African Cinema; not enough to give advice to a producer IN Africa. But I would tell him, keep working and constantly improve the quality of your work. Use the money to get the proper tech crew, good actors and great tech materials. Do not compromise on quality. Hire people who know what the heck they are doing!!! With great quality, your productions could one day go to the Oscars, who knows! And there, sky is the limit.
One year after the #OscarsSoWhite controversy, do you believe the trend has finally shifted or is it just a bump?
Only time will tell! But we did break the cycle!!! I believe that the #OscarsSoWhite movement has raised collective awareness and sparked a global conversation on diversity on screen in Hollywood. It reinforced the actions and longtime advocacy of many celebrities for a more diverse film scene. All this resonated with the Hollywood studios. And I am happy to see the number of black films that now enjoy reasonable budgets and are breaking records at the box office. Although we should not take anything for granted, let's CELEBRATE Diversity on screen this year! We know that to reproduce such unprecedented year, we would need a massive range of Black films, each and every year. This is ambitious but … feasible!
You have been a model, actress, director, producer, president and founder of your self-titled foundation, president of the Montreal International Black Film Festival, president of the Haiti en Folie Festival in Montreal (Haiti on fire), the Toronto Black film Festival (TBFF), the Festival Fade to Black and of the Quebecois Film Festival in Haiti, and also very active at your production company, Zaza Productions. Could you briefly summarize the driving force behind all your success?
I take this as a cool compliment, thank you 😉 I wish I could take credit for it all but I cannot. I have a very cool, devoted and efficient team working by my side. When it comes to how I deal with all effectively, it all comes down to Planning, Prioritizing and effective Time Management. In order for me to effectively succeed at managing all, I had to create a "Stop Doing List" where I literally write down all I have to erase from my life temporarily or permanently in order for me to get more time for people, causes and things I really care about. I had to make tough choices and divorce many friends along the way too – and simply keep the ones who want the very best for me and who will do all to lift me up and support me in all the beautiful crazy projects I come up with – and I do the same for them too. I constantly update my "Stop doing list" to keep it relevant and to not fall back in my old routine or patterns. There was a time I used to go salsa 4 nights a week. Well, when I decided to start the Fabienne Colas Foundation, I had to reduce it to once a week… and now I only go once in a while. Before, I used to say yes to almost all opportunities and offers. Now, I understand that when you say yes to one thing, you automatically say no to more things. The day I understood I could not have it all, my life literally shifted and I understood the power of prioritizing. Everything I do, I ask myself whether it will get me closer or further to my goals or resolutions. Success is not a matter of chance, it's a matter of choice – and most of the time, we gotta make some tough choices and heartbreaking sacrifices. I teach people how to prioritize and even give tips on my blog on that and way more www.fabiennecolas.com .